MQQN Cafe の ToGo (テイクアウト) メニューに皆様の熱い希望に応えて
MQQN Cafe Original Honolulu Chow Mein (ホノルル チャウ メン) が本日より追加となりました。
MOONEYES Official Online Shop では、ご自宅でチャウメンを楽しむ為の Fried Noodle を販売中。
MQQN Cafe 秘伝のレシピをチェックして、ご家庭で MQQN Cafe の味をお楽しみください。
通販でのお買い求めはこちら
In the MQQN Cafe's To Go Menu, from everyone's strong request,
MQQN Cafe Original Honolulu Chow Mein is now Available.
At MOONEYES Official Online Shop,
Fried Noodle is also available to enjoy Chow Mein at your home.
Check MQQN Cafe's Secret Recipe and,
enjoy the taste of MQQN Cafe at your home.
If you are purchasin at hour Online ShopCLICK HERE!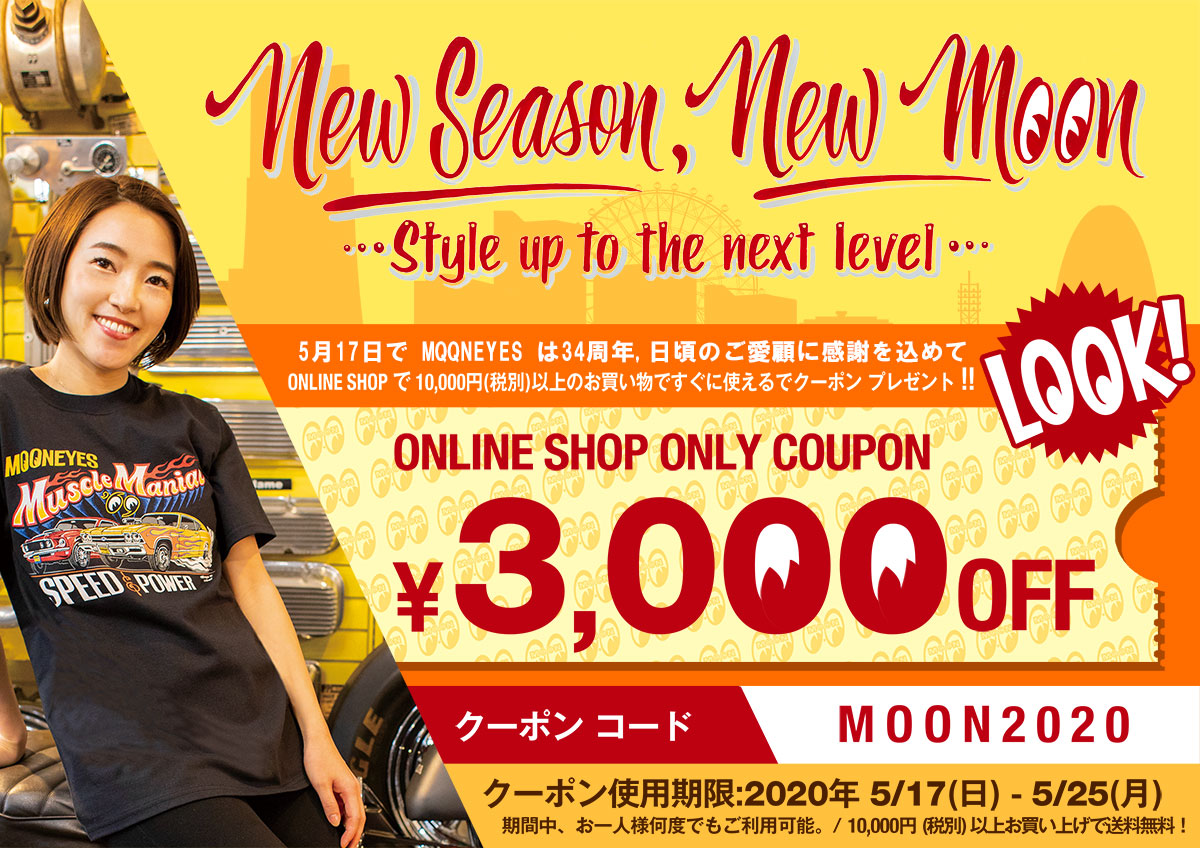 MOONEYES Official Online Shop では、
5月17日で MQQNEYES は34周年、日ごろのご愛顧に感謝を込めて、明日 2020年5月17日~5月25日(月)まで
10,000円(税別) 以上お買い上げの方に、その場で使える 3,000円 OFF のクーポンをプレゼントします。
Clothing、Goods、Auto Parts など全ての商品に使え、期間中は何度でもご利用頂けます。
詳細は MOONEYES Official Website をチェックして、お買い物をお楽しみください。
詳細はこちら
https://www.mooneyesshop.jp/product-group/240
At MOONEYES Official Online Shop,
May 17th is MQQNEYES 34th Anniversary and
to show our great gratitude to the customers,
from tomorrow May 17th(Sun) to May 25th(Mon),
we are offering 3,000yen OFF Coupon that can be used
when purchasing more than 10,000yen(excl. tax).
You can use the coupon for Clothing, Goods, Auto parts,
and everything in MOONEYES!
And, you can use it any number of times.
For more details, please check the MOONEYES Official Online Shop.
For More details.
https://www.mooneyes.jp/product-group/101