ベルギーシメイで開催された 2回目となる European Hot Rod Custom Show は大雨でした。 日本や California で野外カーショーで雨になるとまったく盛り上がりませんが こちらではこの様な気候は珍しい事では無いらしく、 天候に関係無く盛り上がっていました。 ドイツも天候がはっきりしてませんでしたが皆 天気を気にする事無く楽しんでいたのが印象的でした。 記念 T-shirt はあっと言うまに Sold Out, ありがとうございました。 The 2nd European Hot Rod Custom Show was held in Chimay, Belgium and it rained the entire time. Having an outdoor event in California or Japan in the rain, most people don't show up and it doesn't get too exciting. However, here it is different. In this type of climate, the weather does not matter because it's normal and everyone still has a great time. Almost anywhere in Europe, the weather is always changing so they don't care about it and I was impressed how everyone had fun. Our event T-shirt was sold out in no time at all. Thank you very much to everyone.
ベルギーシメイと言ってもピント来ないかもしれませんが このシメイビールは見た事ある人も多いと思います。 シメイビールは必ずこのグラスで提供されるようです。 お洒落です。 You might not be familiar with Chimay, Belgium but I bet there are many people that know Chimay Beer or at least have seen the logo. It is always served with this glass too. Very elegant.
金曜日は天気は良かったのですが。。。 The weather on Friday was actually not bad...
MQQN Booth の完成です。 MQQN Booth in its complete form.
今回は MQQNSter を運びました。 They sent the MQQNSter over from Japan for the event.
メルセデスもカスタムベース Mercedes Benz custom base
Bay Window T-2 を Early Bus Face に。 まだ見た事ありませんでした。 Bay Windown T-2 with an Early Bus Face. I have never seen this before.
チャコスロバキア製の 1960年代のタトラー Tatra です。 Czechoslovakia made 1960s era Tatra.
何と空冷 V-8 しかも Hemi です。 Check out this air cooled V-8 and it's a Hemi too.
Kid Rodder Kid Rodder
空は絶えずこんな感じでした。 The sky was continuously like this all day.
運良く表彰式の時だけ雨が上がったのです。 Luckily, it stopped raining during the awards ceremony.
夜 10時を過ぎても空はまだ明るく寝る間もありません。 At night, after 10PM the sky was still not completely dark yet. No time to sleep.
新製品です。この用にレースカーのパラシュートが開かない様に留めておく "Remove Before Flight" リボンですが 本来は飛行機の非常口に使われているのを見た事あると思います。だから "Flight"なんですが。 このリボンのキーホルダーが出来ました。 New product. It's common to see on the parachute of race cars, the "Remove Before Flight" ribbon. Originally, these were used on airplanes for their safety latches etc. That's why it has "Flight". We took this ribbon and made a key holder.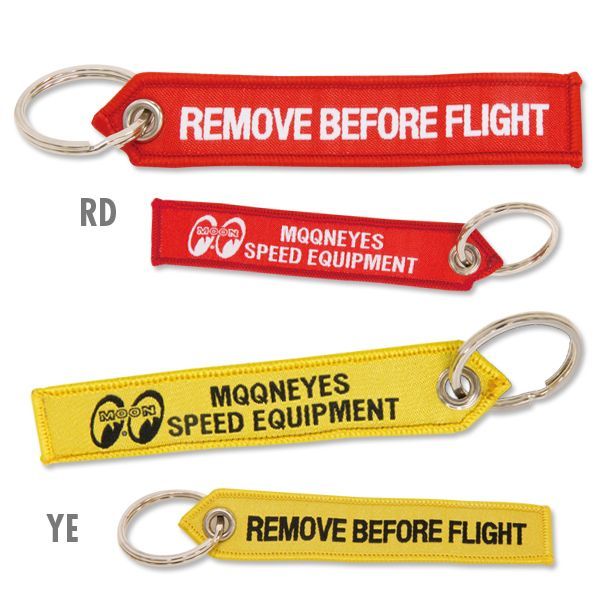 飛行機の非常口などに取り付けられている "REMOVE BEFORE FLIGHT" タグ。 "飛び立つ前に外せ" という意味合いから Drag Race Car などでは、パラシュートに付けられています。 こちらのタグが ミニ バーション の キー チェーン となりました。 キャンバス布のタグに、"REMOVE BEFORE FLIGHT" 反対面に "MQQNEYES SPPED EQUIPMENT" と アイシェイプ が刺繍で入ります。 Drag Race Fan のみならず、航空機好きのココロもくすぐるこちらのアイテム。 日常で使うものだからこそ、ちょっと差を付けたいという方にオススメです。 愛車のキーにぶら下げて、ポケットからのぞかせて、CQQL にこだわりを主張してください ! カラー: RD レッド、YE イエロー; サイズ: 10.5cm x 2.2cm; リング径: 3cm
オンラインショップから注文出来ます。
Commonly seen on fighter jets and aircraft, the classic "REMOVE BEFORE FLIGHT" tag is also seen on parachutes of dragsters and racer cars all over. This is a mini version which can be use on your interior or simply as a key ring. Color: Yellow (YE), Red (RD); Measures: 10.5cm x 2.2cm; Ring: 3cm
You can order from our online store